Hollywood actors started wearing leather jackets in the 1950s for their rugged, military look. It is very comfortable to wear a leather jacket during the cooler months. However, as with any piece of clothing, you should take good care of a leather jacket if you intend to keep it for a long time. So, how do you care for a leather jacket?
Follow these simple steps to make your leather jacket last long and look as good as new.
How To Maintain A Leather Jacket?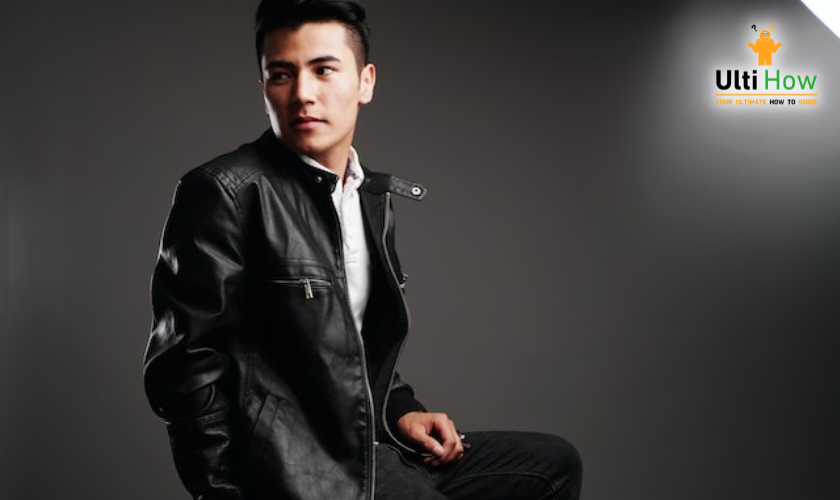 There are various ways to maintain a leather jacket. You can maintain your leather jacket by doing the following:
1. Make the Leather Jacket Water-resistant
A silicone polymer spray should preserve the appearance and shine of your leather but read the label carefully before you buy. In addition to being more protective, oils and waxes are not recommended for jackets as they could negatively affect color, longevity, shine, and odor.
Usually, you can measure water resistance in weeks or months. Check the product label to find out how long it lasts. This process will make the leather jacket water-resistant. Even if the treatment states otherwise, it will not be entirely waterproof. Never submerge or wash a leather jacket in the water.
2. Apply Leather Conditioner Often on the Leather Jacket
Gently massage the leather in the conditioner to protect the coat from becoming overly dry, cracked, or flaky. The application of too much conditioner, however, could have a lasting negative effect on the coat by attracting too much dirt or fading its original color.
Only apply conditioner when your jacket begins to feel stiff or dry. If you're in demand for a leather conditioner, these are some helpful tips:
Ensure the leather conditioner or shoe polish matches your leather. It's essential for leather jackets made of suede or nubuck.
It is preferable to use pure mink oil or other natural animal oils but bears in mind that the leather will darken.
Products containing wax or silicone may dry out the leather and cause less color change, but it might be the less expensive option.
You should never use products containing mineral oil or petroleum, which will result in significant damage.


How to Clean a Leather Jacket
After long periods of use, your leather jacket requires cleaning. Hence, how do you clean your leather coat?
1. Use a Wet Cloth to Remove Salt Deposits on a Leather Jacket
White salt deposits may form on external leather in damp winter conditions. The salt should be wiped away with a slightly damp cloth to avoid dryness or cracks. One way to remove stains from leather material is to make a vinegar-water solution and gently wipe the leather with a clean cloth. In cases where stains are stubborn, it may be necessary to go over the affected area with a dye or polish of a similar color.
You can also read our Ultiblog article How To Care For Dehydrated Skin to learn how to take care of your skin.
2. After Cleaning the Leather With a Damp Cloth, Let it Dry Naturally
Keep the jacket out of direct sunlight or heat sources like radiators or an airing cupboard. If it gets wet, hang it up at room temperature to dry evenly. Also, you can remove dirt from the leather surface using a smooth cloth and apply a thin layer of water-repellent. Once per season, have your jacket treated with a water-resistant agent appropriate for its type.
How To Fix Scratches On A Leather Jacket
Even though you care for your leather jacket and love it, it is possible to scratch it. If the scratch is deep, let a professional repair it. But you can repair it at home if it's a minor scratch. With the help of a few items, you can remove scratches from your jacket.
To find scratches on a jacket, clean the whole jacket with a soft cloth or small brush and remove all the dust.
Apply 3-5 drops of leather jacket oil to cotton, dry cloth or rags and gently rub the affected area of the leather jacket. Leave to dry for a while, darkening the scratched area and hiding delicate areas.
The market offers cream and lotion for leather jackets. Choose the cream that suits your jacket. You should apply the cream to the scratched area and place a damp cloth on it.
Use a blow dryer over the rag and rub softly over the area to smooth it out and help the cream or lotion to absorb.
If you have a suitable marker, you can use it to hide the scratches completely. Using the same color pen is the easiest and best method.
Use a leather protector spray: Spray the polished area of leather material and the whole jacket to protect it from water damage.
How To Store Leather Jackets
Storing leather jackets may be something you think about only sometimes. However, if you want them to last, you'll need to take care of them properly so they remain in good condition for many years.
1. Do Not Put Your Leather Jacket in a Plastic Bag
Many people incorrectly believe that putting their leather jacket in a plastic bag will help preserve the style and keep it clean. However, this is not true. If you store your leather jackets in a plastic bag, it can cause them to dry out or even get moldy!
Instead of putting your jackets in a plastic bag, you should store them flat on a hanger. If you have enough room to hang multiple jackets on one hanger, you should. You can also fold them up and stack them on top of each other as long as they are not touching each other!
You can find the best fossil watch leather bands for men in the Ulti Best Products category Buy The Best Fossil Watch Leather Bands Men.
2. Store Your Jacket in a Cool, Dry Place
Leather jackets are expensive, so you must take care of them properly. Store your leather jacket in a cool, dry place like a closet or drawer.
Place the jacket on a padded hanger to prevent creases and wrinkles from forming. Be sure to store your jacket away from light since the sunlight can cause discoloration and fade over time.
Finally, protect your jacket with a dry clean cloth when not in use for protection against dust and dirt particles.
3. Do Not Hang Your Leather Jacket When It's Wet
Many people think that hanging their leather jacket to dry will make it last longer, but the truth is that doing this may cause the leather to become stiff and brittle.
Instead, it would be best if you allowed your jacket to dry naturally on a hanger in a cool, well-ventilated area. If you wear your leather jacket infrequently, try spot-cleaning it instead of washing it in the sink or washing machine.
It helps keep dirt and dust from building up on your jacket and saves it from becoming damaged from too much exposure to water.
4. Invest in a Good Quality Hanger
Another excellent leather jacket care method is to buy high-quality wooden hangers that won't compress the fibers in your jacket.
When you take your jacket off at the end of the day, hang it on a padded clothes hanger so that gravity won't cause wrinkles.
What Are The Different Types of Leather?
Types of leather can vary, so it's important to know what kind of leather you're working with to understand how to care for it properly. It is also worth noting that some types will require different cleaning methods based on the use and treatment of the leather. Octane Seating discusses quality leather in Leather Insights: A Comprehensive Guide for Buying the Best Leather.
The main types of leather include:
Full grain Leather: This type of leather has not been processed and still has natural marks from the animal used to create it.
Top Grain Leather: This leather is only partially processed as opposed to the full grain, where the leather process didn't happen.
Genuine leather: This type of leather uses only split hides and contains no top coat finish, protective waxes, or oils, which helps protect against water damage.
Bonded Leather: You can make bond leather from two pieces of fabric glued together. This type does not have any natural fibers left in it.
Final Thoughts
Whether it's a new leather jacket or an old suede, the leather care tips discussed in this article will help keep your leather jacket shining for years to come.
Practice these tips now! And don't procrastinate!
FAQ
How do I condition a leather jacket at home?
Conditioning a leather jacket is not tricky, but it can be time-consuming, so it's best to plan. First, you need to remove any dust or dirt from the surface of the leather with a lint-free cloth. You can use saddle soap if needed. Then apply conditioner to the surface of the jacket with your hands and leave it for 10 minutes. Rinse off excess conditioner with water and dry your jacket thoroughly.
How do I keep a leather jacket from cracking?
Leather jackets come from animal skin, which will eventually crack if you don't adequately care for it.
To avoid this from happening, you should take care of your leather jacket by following these steps:
Clean the jacket with a dry cloth every time you wear it. If you have any stains on the jacket, use a damp cloth to clean it.
Apply a leather conditioner on the leather every few months or so. It will keep the natural oils in the leather and make it less likely to crack.
Store your leather jacket in an open room with good air circulation (such as your closet) so it stays cool while not being worn.
References
How To Maintain A Leather Jacket?
India Marks: How to Maintain your Leather Jackets?
How to Clean a Leather Jacket
HGTV: How to Clean a Leather Jacket
How To Fix Scratches On A Leather Jacket
Sculpt Leather Jackets: HOW TO CARE AND MAINTAIN YOUR LEATHER JACKETS
How To Store Leather Jackets
F Jackets: How To Properly Maintain Your Leather Jacket
What Are The Different Types of Leather?
Octane Seating: Leather Insights: A Comprehensive Guide for Buying the Best Leather
Liberty Leather Goods: Types of Leather: All Qualities, Grades, Finishes, & Cuts